Posts for tag: flossing
By Ken Yasuhara, DDS - Aesthetic and Restorative Dentistry
February 23, 2020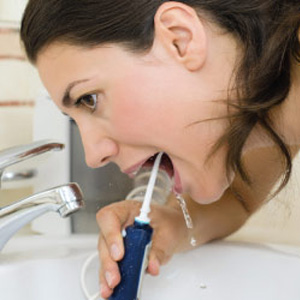 Though you don't like to admit it, you don't floss very often. Oh sure, you know it's important to remove the film of bacteria and food particles called plaque that builds up between and on your teeth. And you know you should do it every day.
It's just that, well… you're not very good at using dental floss.
While it's effective, dental floss takes some technique to hold it with your fingers and work it between your teeth. It can be hard for people to get the hang of it — and some aren't physically able or have obstacles like braces that make it harder.
There is a solution: an oral irrigator. Available for home use for decades, these devices deliver pulsating water at high pressure through a handheld device that looks like a power toothbrush. The water flows through a special tip to loosen and flush out plaque from between teeth.
You may have encountered oral irrigation during dental visits. They're a regular part of dental cleanings especially for treatment of periodontal (gum) disease. Because gum tissue weakened by disease may gradually separate from the teeth, large voids or gaps called periodontal pockets can form. These pockets can become further infected and accumulate plaque and calculus (hardened plaque deposits) that can also extend to the roots. Oral irrigation is a way to remove much of the plaque from these hard to reach places.
Oral irrigators have also proven effective for orthodontic patients whose brace hardware inhibits regular dental floss. A 2008 study, for example, found orthodontic patients were able to remove five times as much plaque with an oral irrigator as those who used only a manual toothbrush.
If you're simply looking for an effective alternative to dental floss, an oral irrigator is a good choice. We can help choose the right model for you and give you tips on using it. Your goal is the same as if you were using dental floss — remove the plaque between your teeth to keep disease at bay and your smile healthy.
If you would like more information on flossing options, please contact us or schedule an appointment for a consultation. You can also learn more about this topic by reading the Dear Doctor magazine article "Cleaning Between Your Teeth."
By Ken Yasuhara, DDS - Aesthetic and Restorative Dentistry
January 29, 2015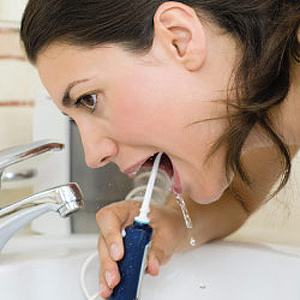 A critical part of effective, daily oral hygiene, flossing removes bacterial plaque from between teeth that can't be accessed with brushing. Unfortunately, it's often neglected — string flossing requires a bit more dexterity than brushing and can be difficult to do properly.
It can be even more difficult for people with implants or who wear orthodontic appliances. For brace wearers in particular, getting access to areas between teeth with string floss is next to impossible; the metal brackets and tension wire also have a tendency to catch and retain food debris that's difficult to remove with brushing alone.
Water flossing, using a device called an oral irrigator, is an effective alternative that addresses many of these difficulties. First available for home use in the 1960s, an oral irrigator delivers pulsating water at high pressure through a handheld applicator that forcefully flushes material from between teeth.
There's no question that string flossing is effective in plaque removal between teeth — but what about oral irrigators? A 2008 study looked at a group of orthodontic patients with braces who used oral irrigators and compared them with a similar group that only brushed. The study found that five times as much plaque was removed in the group using the oral irrigators as opposed to the group only brushing.
Oral irrigators may also be effective for people who've developed periodontal (gum) disease. In fact, oral irrigators coupled with ultra-sound devices are routinely used by dental hygienists to remove plaque and calculus (hardened plaque deposits) in periodontal patients. As with regular oral hygiene, though, it's important for patients with gum disease to include water flossing with daily brushing (at least twice a day) and regular cleaning sessions at the dentist to ensure removal of all plaque and calculus.
If you're interested in using an oral irrigator, be sure to consult with us at your next appointment. Not only can we recommend features to look for in equipment, but we can also instruct you on the techniques to make water flossing an effective plaque remover.
If you would like more information on water flossing, please contact us or schedule an appointment for a consultation. You can also learn more about this topic by reading the Dear Doctor magazine article "Cleaning Between Your Teeth."